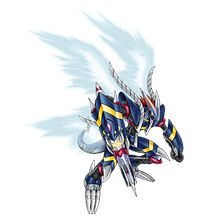 Darkdramon is a Cyborg Digimon whose name and design are derived from "Dark Dramon". It is believed to be the weapon of last resort for the mechanized "D-Brigade", and its right hand is equipped with the "Gigastick Lance", which rivals Gallantmon's holy lance "Gram". Although this is information that stubbornly remains part of the rumor mill, it is said that a Tankdramon, shot down during an operation to eliminate a "target" designated "Codename: BAN-TYO", was retrieved and digivolved to Darkdramon at the D-Brigade research facility it was left at. It seems that on the verge of its digivolution, a large quantity of "Dark Matter" was applied, and after its digivolution it ran wild and broke out, so currently even the D-Brigade cannot secure Darkdramon's whereabouts. It is said that even now it is hunting "Codename: BAN-TYO"...
Ad blocker interference detected!
Wikia is a free-to-use site that makes money from advertising. We have a modified experience for viewers using ad blockers

Wikia is not accessible if you've made further modifications. Remove the custom ad blocker rule(s) and the page will load as expected.