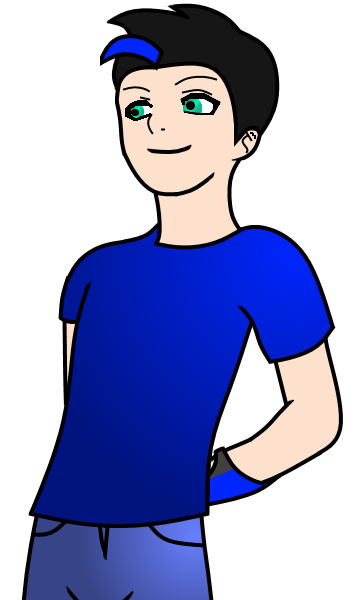 Prince
Daniel "Danny" Bearinger
is the son of 
Vice Principal Luna
 and former leader of Luna's Royal Guard, 
Marcus Bearinger
.
History
Personality
Danny is a five year old child who's adventurous and playful. He enjoys being with his friends and family. He hopes to become an able hero like his father.
In his teens, he likes the fact that he is royalty, but still prefers to fight evil, similar to Phillip III of Zandar, the Dino Charge Graphite Ranger and a fellow Prince.
Appearance
Daniel's appearence main consists of black hair, like his father (with additional traces of blue), and has cyan eyes, similar to his mother.
As 5 years old
At age 5, Daniel has short black hair with traces of blue, wears a light blue t-shirt with a cresent moon on it and navy blue shorts.
As a teenager
In his teens, Prince Daniel most of the time wears a Navy blue t-shirt with Princess Luna's cutie mark, and has black jeans. On occasion, he wears a Navy Blue suit and black tie with the Multi-Universal United Government Royalty Crest pin to symbolize that he's royalty.
Halloween Costume
Fire Rebellion Storyline
Daniel appears all throughout Season 14. At the end of the season, his childhood friend and fellow teammate, Cloe Carter, becomes his love interest.
Fire Rebellion: Season 15
Relationships
David Johnson
Cloe Carter
Marcus Bearinger
Luna
Jack Mason
Allies: David Johnson, Cloe Carter, Agent Michigan, Vice Principal Luna, Jack Mason, Marion Samson, Brody Romero, Preston Tien, Calvin Maxwell, Hayley Roster, Sarah Thompson, Redbot, Mick Kanic, Holly, Sci-Twi, Jane Jons, Juniper Montage
Enemies: Illusive Man, Cerberus, Dick Jones, Catherine Carter,
Powers and Abilities
Gallery
Ad blocker interference detected!
Wikia is a free-to-use site that makes money from advertising. We have a modified experience for viewers using ad blockers

Wikia is not accessible if you've made further modifications. Remove the custom ad blocker rule(s) and the page will load as expected.