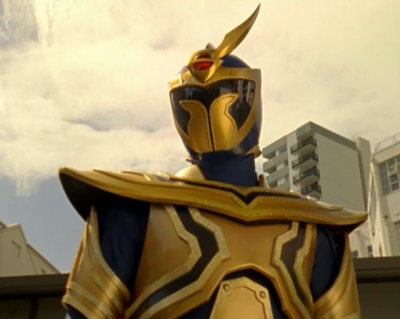 Daggeron is the Solaris Knight, who wields the power of the sun and owns a feline genie named Jenji.
He is portrayed by John Tui, who also voiced Commander Anubis Doggie Cruger from Power Rangers SPD.
The Miracle Elite Storyline
Beauty and the Miracle Elite
TBA
The Phantom's Apprentice
TBA
Trouble in London
TBA
Ranger Key

The 
Solaris Knight Ranger Key
is Daggeron's personal ranger key. This key, along with the other 14 Official Sixth Ranger Keys, are seen lining the walls of the Command Center. This key is mainly used by 
Orion
 (Super Megaforce Silver) to fight as the Solaris Knight.
Along with the Quantum Ranger, Lunar Wolf Ranger, Omega Ranger, and Mercury Ranger keys, this Ranger Key went unused by Orion besides the fusion of all the Sixth Ranger Keys to form the Super Megaforce Gold Key.
Gallery