Daemonites
are a reptilian alien race from the planet Daemon, who are capable of possessing host bodies. Millennia ago, the Daemonites discovered interstellar travel and started to conquer the universe. Their ability to possess other species gave them a distinct advantage over most species, allowing infiltration and survival in almost any environment. Their rise to power was unopposed until they encountered the Kherubim. The Kherubim were a noble race of nearly immortal warriors. Despite the Daemonites ability to possess the Kherubim, the Kherubim's technology allowed them to detect possessed individuals. The war raged for millennia.
A Daemonite vessel fought a Kherubim vessel near Earth, thousands of years ago. Both spaceships were damaged and crash landed on Earth. The Daemonites decided to conquer this world and use its population as host bodies, while the Kherubim wanted to defend humanity. The Daemonite-Kherubim War inspired many tales of gods, demons, angels and monsters. Most of the Daemonites organized themselves as The Cabal and focused on the goal of Daemonite Reunification: a return to Daemon. They were opposed by multiple heroes, such as Axel Brass and his team and much later, the WildC.A.T.s.
In space, the battle between Daemon and Khera was decided. The Kherubim won and imposed heavy war reparations on Daemon. Daemonite society went bankrupt while trying to pay and many Daemonites migrated to prosperous Khera, but once there they were confined to ghettos.
When the Daemonites on Earth found out, many of them ceased their quest for Reunification. Some settled down, others became mercenaries and others again, like Lord Helspont, now focused on increasing their own power and wealth.
Recently, the Daemonite Lord Helspont found a Kheran World Shaper Engine on Earth and looked into its databanks. There he discovered that the Kherans were like cuckoos, sending Shaper Engines across the universe to land on planets and turn them into ideal habitats for Kherubim. He also discovered that one such engine had landed on Daemon and had formed the Daemonites from the local population as a servitor race. The Daemonites rebelled and destroyed their 'Kheran' lords.
In the wake of World's End, the Daemonites had taken advantage of post-Armageddon Earth in which the Daemonite High Council planned on invading the planet. However, Daemonite High Lord Defile stands against this as he claimed Earth as his rightful domain in which he prepared to sought a strategy against this invasion; in which he acknowledged that it would be more devastating than any other alien invasions that the planet has ever endured.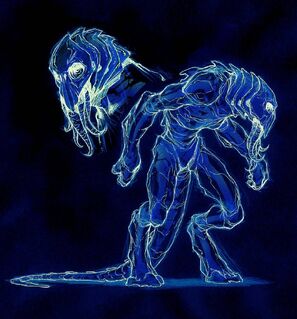 Ad blocker interference detected!
Wikia is a free-to-use site that makes money from advertising. We have a modified experience for viewers using ad blockers

Wikia is not accessible if you've made further modifications. Remove the custom ad blocker rule(s) and the page will load as expected.