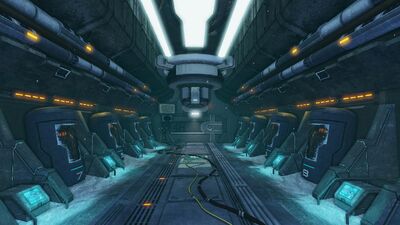 Encryption #02-48-47-47
Intercepting an emergency call from an abandoned CryoCenter
Locate Indigo Zap and extract her
Date: 14:30Hrs Nov 24th 2065
(Cal and Taylor enter the CryoCenter.)
Cal: We're in.
Overlord: Roger that. Standing by for exfil.
Taylor: Weapons tight.
(Cal and Taylor approach two guards.)
Guard 1: You think that teenage girl with blue hair is gonna be coming out of that lab room anytime soon?
Guard 2: Tsk. Doubt it. (Looks away and looks at the other guard.) Hey, you ever wonder why we're...
(Cal and Taylor kill the guards from behind.)
Cal: No. I don't wonder why we're here. Simper Fi, bitch.
Taylor: Let's keep moving.
(Taylor and Cal approach a high number guards. They see the door to the room that Indigo Zap is hiding.)
Cal: Hold on. Wait. There's way too much activity. This isn't right.
(Cal zooms in and sees a soldier in Warlord armor about to breach the door.)
Cal: Fuck! We can't let them in.
Taylor: They're not getting in.
(Cal and Taylor attack the enemy soldiers as well as the Warlord soldier.)
Cal: I'm gonna distract the Warlord!
(Cal goes to distract the Warlord. Taylor aims for the soldier's head and shoot him several times.)
Taylor: Warlord down.
Cal: Let's get this door open.
(Cal and Taylor opens the door. They approach Indigo Zap.)
Cal: Indigo Zap, Dean Cadance sent us. Do as we say and you'll be fine.
Indigo: Alright.
Cal: Overlord, package secure. Moving to extraction.
Overlord: Roger that. Exfil is inbound. ETA, 3 minutes.
Taylor: Copy that, Overlord.
(They exit the building, to find an army of Space Pirates waiting for them.)
Overlord: ISR is online. We are detecting multiple hostiles in the parking lot of the facility. You now have OpCon on a fully armed Hellstorm.
(Cal activates the Hellstorm Missile controls. A Hellstorm strike takes out several space pirates. The process is done again. Eventually the Space Pirates have been eliminated. Exfil arrives and gets Indigo Zap and the duo out of the area. Later, in the evening, Mich is seen sleeping. In his dream...)
Mich: What? Where am I?
(Princess Luna appears.)
Luna: This is your dream.
Mich: Luna?
Luna: Wake up and meet me outside. (Disappears)
Mich: LUNA?!!
(Mich wakes up. He quickly gets dressed and walks outside. He walks around the corner and can't believe his eyes.)
Mich: Luna.
Luna: I'm happy to see you again.
TO BE CONTINUED....
Ad blocker interference detected!
Wikia is a free-to-use site that makes money from advertising. We have a modified experience for viewers using ad blockers

Wikia is not accessible if you've made further modifications. Remove the custom ad blocker rule(s) and the page will load as expected.