WARNING!!! THIS PAGE MAY CONTAIN SPOILERS FOR THE GAME "UNDERTALE"!!! READ AT YOUR OWN RISK!!!
Chara, also known as the First Child and the Fallen Child, is the first human to ever fall past the Barrier on Mount Ebott into the Underground. This person is who the player is naming at the start of the game, and not the controllable character who is played throughout the entirety of Undertale.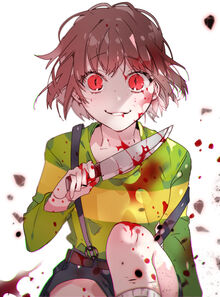 Chronicles of Great New Empire
Chara is a child of mortal woman and Giygas. It has been specially sent to the Underworld, which would destroy both worlds and bring his father to victory.
Ad blocker interference detected!
Wikia is a free-to-use site that makes money from advertising. We have a modified experience for viewers using ad blockers

Wikia is not accessible if you've made further modifications. Remove the custom ad blocker rule(s) and the page will load as expected.