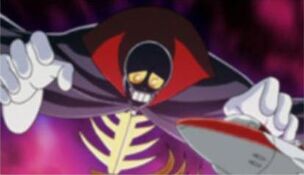 Skull
 (スカール 
Sukāru
) (known in the English series as 
Black Ghost
) is the main villain from 
Cyborg 009
. He is the tyrannical leader of an evil organization called the Black Ghost Organization (its main mission is to cause war between two global powers by dealing weapons). His true identity is not known because he wears a helmet, which looks like a skull, and an all-black suit (which appears to have what looks like ribs) followed by a red cape. His given name is, according to some sources, Skull. A possible origin for him exists in the 2007 anime adaptation of the Skull Man in which main character Hayato is revived and takes up an appearance almost exactly like that of Skull.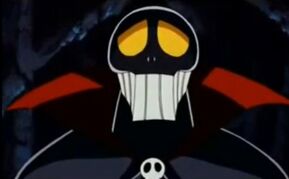 Chronilces of Great New Empire
He is "Ultimate Terrorist" in "Ultimate Despair".