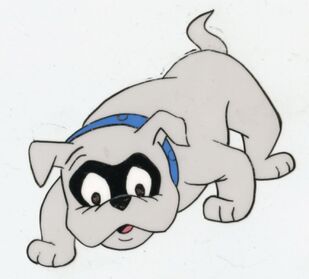 Bandit is the name of Jonny's pet, a small white dog. He has been so named because his eyes have a black, mask-like coloration around them. This coloration is occasionally instrumental in foiling antagonists. He is unique among his fellow Hanna-Barbera dogs (such as Scooby-Doo, Huckleberry Hound, and Hong Kong Phooey), as he is a regular non-anthropomorphic dog. Though, he seems uncannily able to understand human speech and is capable of complex facial expressions. Don Messick provided Bandit's vocal effects, which were combined with an archived clip of an actual dog barking.
The Miracle Elite Storyline
The Guardians of Cosmictopia
Bandit joins the Guardians to find Johnny Quest. Despite being a regular non-anthropomorphic dog, Alfred Milo and Camille were very kind to him no matter what they are.
 

The Miracle Elite


Main Members
Tuxedo Lovelace | Terra | Ezekiel Zick | Xigbar | Raziel | Stacy Hirano | Strong Bad | Index and Squid Girl | Sam and Max | Gex the Gecko | Gatomon | Spawn |
Major Members
Vexx and Kohaku | Mighty Max | Ludwig Von Drake | Romeo Conbolt/Moon Warrior | Bluster Kong | Chappie | Lara Croft | Dennis Hirano | Sokka | Triumph | Sahoto Ashisu |
Thunder Syndicate Major Members
Damian Wayne | Zatanna | Jenji | Tifa Lockhart | Claptrap | Roxanne | Chihiro Komiya | Sheena Fujibayashi | Blinx |
The League of Extraordinary Swordsmen
Oswald (Leader)| Gwendolyn | Erza Scarlet | Kirito | Alice Liddell | Saber | Valkyrie | Saito Hiraga | Hiei | Allen Walker | Momo Hinamori | Psylocke | Monica | Erica Blandelli | Sakura Shinguji |
The Guardians of Cosmictopia
Marin | Z and Koko| The Blues Brothers | Alfred, Milo, and Camille| Ruby Alison | Bandit | Kitty Katswell | Chihaya Kisaragi | Sally Bollywood | Doowee MacAdam | Patapon | Miyuki Kobayakawa | Natsumi Tsujimoto | Saten Ruiko and Uiharu Kazari
Hononary Members
Chun-Li | Asuka Kazama | Herbie | Marisa Kirisame | Polka | The Grinch | The Cat in the Hat | The Annoying Orange, Pear, Passion Fruit, Midget Apple, and Marshmallow | Yuffie Kisaragi | Kitana | Crazy Frog | Grim Jr | Purple People Eater | Kiki | Jiji | Tombo | Splosion Man | Tomo Takino | Wallace and Gromit | Pat and Stan | Bananas in Pajamas | Gumby, Pokey, Prickle, and Goo | The Abominable Snowmonster | Opus the Penguin | Cait Sith | Morrigan Aensland | Lilith Aensland | Sadao Maō | Gon | Smokey the Bear | Croc | Fat Albert and the Cosby Kids | Yolda | Cedric the Sorcerer and Wormwood| George, Lizzie, and Ralph | Dalian | Rupert Bear | Kipper | Doraemon | Moomintroll | Shaun the Sheep |
Thunder Syndicate Members
Roger | Question | Jersey Devil | A-ko Magami | Birdy Cephon Altera | Bridget (Guilty Gear) | Chiaotzu | Chicken Little | Hamtaro | Mariah Wong | Gary Oak | Simon, Yoko Littner, and Kamina | Sai | Marina Ismail | Sakura Kasugano | Ibuki | Max Taylor | Rio Kastle | Totoro | Rufus | Lulu | Sackboy | Seymour Smoke | Sumeragi Lee Noriega | Talim | Shido Itsuka | Tohka Yatogami | Peacock |