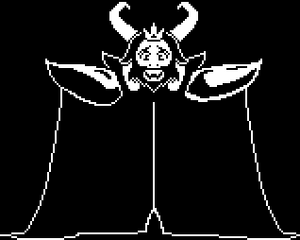 WARNING!!! PAGE MAY CONTAIN SPOILERS FOR THE GAME "UNDERTALE"!!! READ AT YOUR OWN RISK!!!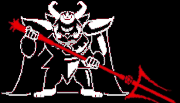 Lord Asgore Dreemurr
(/ˈæz.ɡɔɹ dɹiːmɜɹ/, AZ-gore DREE-murr is the ruler of the Underground and its denizens, monsters. He is the ex-husband of Toriel, the father of Asriel Dreemurr, and the second to final boss of the neutral route.
Fire Rebellion Storyline
After the breaking of the barrier between the Underground and Surface, Asgore was offered a seat in the Multi-Universal United Government. He at first declined, thinking that he hasn't reach that point yet. However, after seeing the threat that the Nightmare Forces possed, he accepted at the last minute and moved all his governing operations from New Home to the MG's current capital New Shine.