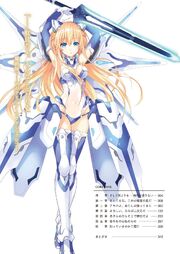 Artemisia Bell Ashcroft
is one of the character introduced in the Spin-off Date AST Like. She is one of the top 5 most powerful Wizards in the world and the Ace Wizard from Special Sorcery Service and a is high-rank soldier in
Deus.Ex.Machina Industries Empire
 army. She is first mentioned in the 5 volume of the light novel on the Yamai Sisters Arc and in episode 2 of the second season of the anime by James A. Paddington, she is the only one that is able to fight with Ellen Mira Mathers the Adeptus 1, Mana Takamiya the formerly Adeptus 2 and Jessica Bailey the Adeptus 3.
Recently, she made her first light novel appearance in Volume 12.
Dynasty Warriors
After Isaac's death, Artemisia sacrificed herself to stop Mega Darkness Tuxedo Lovelace, but she ended up being killed by him.
Gallery