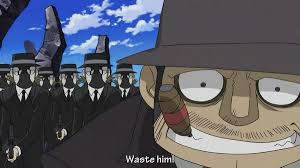 Alcapone 
was an Evil Human mafia leader as well as a minor antagonist in the second episode of 
Soul Eater. 
Black Star and his weapon, Tsubaki Nakatsukasa, were on a mission to assassinate him and his associates but failed because of the meister's inability of stealth and the pair were forced to retreat when his men fired upon them with their firearms.
Ad blocker interference detected!
Wikia is a free-to-use site that makes money from advertising. We have a modified experience for viewers using ad blockers

Wikia is not accessible if you've made further modifications. Remove the custom ad blocker rule(s) and the page will load as expected.