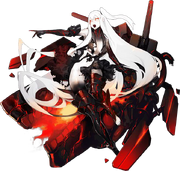 Aircraft Carrier Princess
,
(Aircraft Carrier Hime in Japanese codi-name
) is one of the main Hime-class from Abyssal Fleet in Kantai Collection game.
She is one of the enemy-bosses introduced during the Summer 2014 event, encountered first during the initial map of the MI segment, before being fought again during the penultimate MI map. She also appears at the pre-boss node of the Extra Operation, the counterattack on the fleet girl HQ. She shows up again in the Fall 2014, Winter 2015, Spring 2015 and Summer 2015 events. She later returns as an optional encounter in map 6-1. She is also the "alter-ego" to Aircraft Carrier Demon.
Gallery
Ad blocker interference detected!
Wikia is a free-to-use site that makes money from advertising. We have a modified experience for viewers using ad blockers

Wikia is not accessible if you've made further modifications. Remove the custom ad blocker rule(s) and the page will load as expected.